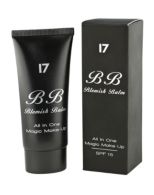 After hearing wonders about BB creams, I decided I needed to get hold of one. Who doesn't want to sport skin as they promise? I mean, who wouldn't kill  "to reveal the magic of flawless skin with this all-in-one foundation plus skincare wonder product"?
This cream claims to give full coverage which conceals imperfections and helps control oil;  even skins tone for a flawless finish and protect your skin with SPF 25 and hydrating formula. Great, eh? So I bought the 17 Blemish Balm, for a reasonable £5.99, on offer (normal price £6.99) from Boots.  I originally wanted the Garnier one, but the branch I visited didn't stock it, so I decided to give this one a go.
It is worth pointing out that I have sensitive combination skin, with a sometimes oily t-zone and the eventual drier patches. I suffered from severe acne in the past and although it's all  gone, I have breakouts from time to time. I don't have an uneven skin tone, but have some mild acne scars on my cheeks, slightly enlarged pores (not too bad) and occasionally, some redness from irritation.
Bearing that in mind, this is my opinion and experience with the product:
The first thing I noticed was the colours limitation: two to be precise –  light and medium. Now, what do darker skins do? Not sure. I went for medium, as I have olive skin. The colour is not a good match for me, as it is medium for pink based skin tones. As I have yellow tones in my skin, none of the colours are ideal.
Second, I thought about posting a picture and decided against; there was no difference, it feels like a thin tinted moisturiser, it hid some minor blemishes, but didn't offer good coverage. Needless to say, I am mortified to be photographed without make up, *twice* would be an insult.
Having said that, some reviews mentioned it could be ok to use as a primer, but  I don't think it particularly fixes make up – I tried and it didn't do it for me.
However, the absolute killer was the way the product made my skin feel very greasy, clogged, as if it couldn't breathe. Minutes after applying, I felt I should wash my face. I had some break outs, and I am not, in any way, blaming the product for them, but now I haven't used the product for a week or so, they have cleared – just saying.
I must mention, as explained above, that I don't have flawless skin (if I had, I probably wouldn't feel so tempted to buy the product in the first place), but my current foundation, which has a medium/sheer coverage, mixed with a little moisturiser offers much better coverage – without the greasy feeling.
Concluding, I can't really see any of its magic, I didn't like it, I wouldn't buy it again or recommend and this is not really for me.
I do hope others had a better experience with this! Have you tried this or another BB brand? What did you think?